---
Jack Herrera didn't realize he was experiencing vicarious trauma — a condition whereby a person working with trauma survivors exhibits symptoms of secondary trauma — until his therapist told him so at a session last year.
The independent reporter and contributing editor at Politico Magazine has spent a significant portion of his career writing about refugees and immigration — stories that have put him in close contact with people experiencing violence and injustice — and had always felt empathetic towards their struggles. But reporting about the worsening conditions they've been grappling with over the past year in conjunction with the pandemic has taken a greater toll on his emotional health.
Sign up for our newsletter! "It would be hard to see this suffering and not be affected by it," Herrera said. "It's not just hearing this person's story and viewing them as a source giving me quotes. There's a person in front of you who's in danger."
Journalism was a trauma-facing profession long before the pandemic. According to the Dart Center for Journalism and Trauma, 80 to 100 percent of journalists have been exposed to traumatic events, including accidents, wars, disasters and violent images and video footage. Journalists also face violence, intimidation and harassment themselves while working. Despite the well-established correlation between journalism and trauma, conversations about journalists' mental health have only come to the forefront amid the pandemic, which engendered a nonstop news cycle filled with record deaths, racist violence and economic hardship, along with news of journalists leaving the industry because of burnout.
As the industry struggles with a mental health crisis, journalists — particularly those from communities of color and other marginalized groups who report on their communities — are opening up about the increased stress and emotional duress they're experiencing and sharing their ways of coping.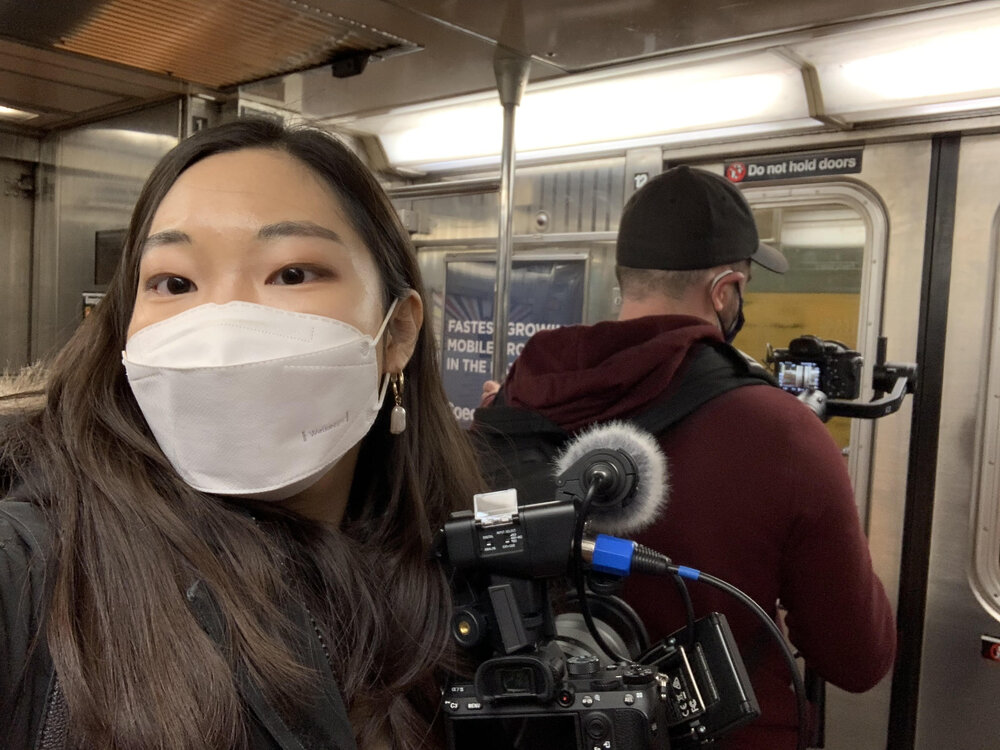 Anna Kook, a field producer at AJ+ from Korea, has always gravitated towards stories about Asian and Asian American communities. But as racist attacks on Asian Americans increased — Kook herself was jeered at on the subway before she began working remotely — she doubled down on her resolve to tell such stories. Yet doing so came with pressure.
"I felt really responsible that if I didn't speak up, if I didn't cover this topic, then no one else would," said Kook, who has to watch graphic clips of violence on loop while editing video stories. One included clips of an acid attack, someone being sprayed with Febreze and people saying racial slurs. "The more extreme of an attack someone endures and the more often the attacks occur, the more newsworthy it is."
Lexis-Olivier Ray, an independent journalist in Los Angeles, has undergone similar challenges reporting on growing homelessness and the protests that followed George Floyd's death. He said he often feels like he's "not doing enough or that I could be doing more" even though he rarely takes a break. At the height of the racial justice protests last summer, he said he would work as late as 2 a.m. or 3 a.m., sleep for a few hours, then start over. In addition, Ray, who is Black, said he was assaulted by police  while reporting, which inspired his decision to temporarily take some time off.
"It was really hard to shut things off or walk away," Ray said. "After the protests I'd be filled with all this adrenaline, energy and emotion and it'd be really difficult to settle down after that, so that would keep me up too… and it was really difficult to deal with the violence and see people like me getting killed by the police."
Reporting on the events of the past year proved just as challenging for newsroom leaders. Dodai Stewart, deputy editor of narrative projects at The New York Times, recalled hearing continuous ambulance sirens and checking in with co-workers who had coronavirus when New York was the epicenter of the pandemic in the U.S. She said an internal tips line where people could send coronavirus-related stories was helpful at first, but quickly became overwhelming.
"It touched all aspects of your life, even if it wasn't the exact story you were reporting," Stewart said. "The guy at the bodega or your landlady was affected by it and you're walking around with this cloak of grief and anxiety and endless fatigue."
How can journalists maintain their emotional health? Several journalists mentioned therapy as a lifeline, noting that emotional mutual aid such as the Black Journalists Therapy Relief Fund and the AAPI Journalists Therapy Relief Fund have been vital resources. Others mentioned formal affinity groups such as the National Association of Black Journalists and the Asian American Journalists Association or organizing informal group chats and events for journalists to vent and find support. One, who asked that their name not be published, said they took up recreational marijuana use to calm their anxiety.
Karen Ho, an incoming Business Insider reporter, has been one of the most vocal advocates for journalists' prioritizing their mental health. She's garnered a large Twitter following in part because of her regular reminders to stop doomscrolling, log off the platform and get some sleep. Ho said that in addition to shutting down social media whenever possible, journalists can maintain emotional health by engaging in activities that require attention, such as watching TV with subtitles in a different language, exercising and doing "smart, lazy things" like meal prep.
"It's about doing small things, one at a time, every day and giving yourself the grace and understanding to know that you will not do them some days and it's not the end of the world," Ho said.
Kook said the difficult reporting she's done has made her realize it's okay to lean on her colleagues. After Christian Hall, a 19-year-old Asian American boy, was shot and killed by police last December, Kook geared up to cover his story, but decided to prioritize her mental health instead.
"I'm going to take a step back and not do a story, and I'm going to trust that someone else in the company is going to take over and do a story and that they're going to do it well," Kook said. "And that's what happened."
Remembering the role — and limits — of journalism can also put things in perspective.
"I cover issues that I care deeply about and I find solace in knowing 'Okay, I can do something,' and if I do this sensitively and thoughtfully, well that's what I can do," Herrera said. "No one person can fix these problems or even make them significantly better on their own, but reminding myself that you're doing something… that gives me a sense of clarity."
If you or someone you know is in crisis, call the National Suicide Prevention Lifeline at 800-273-8255, text HOME to 741741 or visit SpeakingOfSuicide.com/resources for additional resources.
---